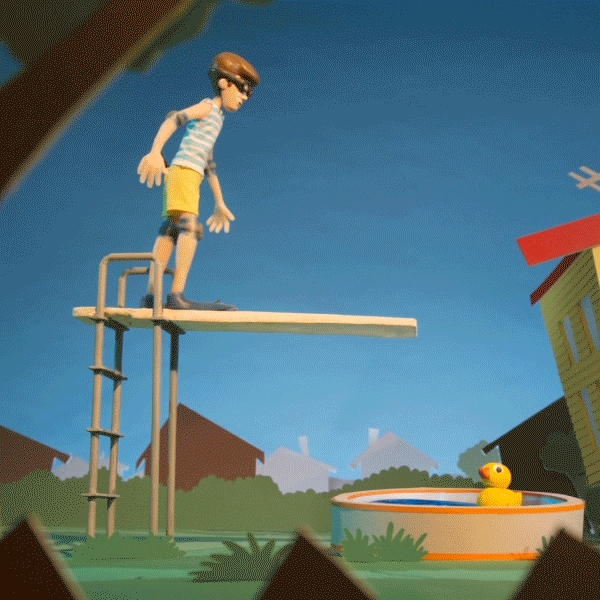 Diver
A Stop-motion puppet made for an assignment at Savannah College of Art and Design. The puppet is cast out of tin based tinted silicone, with painted in hand and knee pads with a plastic head with replacement eye blinks and mouth replacements.
Supervising Faculty: Nathan Asquith
Set Fabrication: Bismark Fernandes, Jackie Nash, Matt Scharenbroich, Melody Moon
Animators: Puppet Animation by Brock Barber, Duck/pool animation by Bismark Fernandes & Jackie Nash
Final Diver Set- responsible for the House prop, diving board and set dressing.
Diver character design and armature drawing.
Body Plaster mold, prepped to pour the second half. Body sculpt done with Chavant clay.
Final armature fitting inside the mold
Diver body and flippers casting setup for silicone injection. The casting was done in a tin based tinted GI-1110 silicone.
Flipper mold setup for silicone injection
Final silicone flipper cast.
Final silicone body cast with elbow and knee pads details painted inside the mold before injecting the skin tone.
Flipper mold set up. Wires added to create vents coming up from the ankle joint.
Diver head mold prepped for pouring silicone. The molds were made using a tin based silicone, Gi-1000.
The face replacements were made using two head cast carved down with a Dremel to make the mouth swaps.
Neutral mouth shape, prepped for molding. The mold cut line marked with blue sharpie.
Replacement faces re-sculpted with epoxy putty.
Replacement mouth shapes primed and sanded, prepped for painting.
Laser cut goggle rims, with printouts of eye blinks assembled in the goggle piece.
Carving the head block with a Dremel. When the animation department had not yet invested in a downdraft table.